Palm Beach Gardens artist Caren Hackman has been painting since childhood. But it was literally a back-breaking ordeal that led her to her new artistic passion – inspirational yoga portraits.
A back injury left Caren in pain. Unsuccessful surgery worsened the situation. It sidelined her for two years during which she lived with pain and anger over her diminished quality of life. 
"Yoga saved my life. As I learned more about the physical aspects of yoga, it began a slow, personal evolution, a catharsis, leaving the anger behind, which allowed me to focus on the joy in my life. As the spiritual essence of the practice became clear, I was drawn to share that passion through my art."
Caren Hackman's previous artwork has been eclectic. An outstanding watercolorist, she also works in mixed media, painting in acrylic or oil on canvas, and includes collage for added texture. As often as possible in her creative work, she portrays patterns in nature. A beautiful example is her recent yoga painting, Ancient Oak Tree. It incorporates the yoga tree pose with an ancient oak she saw at San Felasco State Park near Gainesville. "It was a magnificent tree with gnarled trunk, sprawling limbs, and giant roots." The Ancient Oak Tree artwork is available on note cards, as well as wall hanging scrolls, from 13" X 19" to mural size.
"I hope that viewers can feel my love and connect with the spiritual and physical aspects of yoga."
Caren has been painting since childhood and doing graphic design professionally since college. Her college degree was in industrial design. "My dream had always been to be an artist, but I had a huge love of building things and tactile projects. Industrial design filled that need." But that didn't extinguish her original passion and she continued to paint throughout college and afterward. "I continue to paint and exhibit while running my graphic design business and creating illustrations for clients." 
In South Florida, Caren is well-known for her tireless dedication to community projects. She has founded the GardensArt program and Artists of Palm Beach County. Caren illustrated the life of George Morikami for the Morikami Museum. 
 
Her task force and committee contributions include the Norton Museum of Art's ArtServe, Armory Art Center, Boys and Girls Club Gators Galore, SunFest, Palm Beach State College Campus Art Gallery. Most recently she became a member of the board of directors of April is for Authors.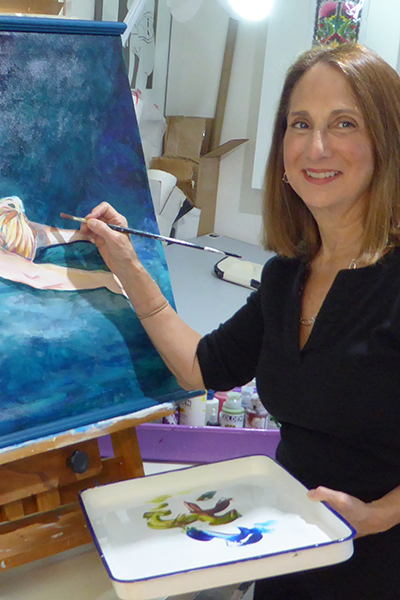 In October 2016, her yoga portrait, SG Child Pose, received an award ribbon and cash prize in the Art Gallery of Viera Show in Melbourne, FL. Caren has been awarded two Artist in Residence positions: in 2010, by Necedah National Wildlife Refuge in Wisconsin, and in 2005, by the Herbert Hoover National Historic Site in West Branch, Iowa.
Caren's paintings have been exhibited in museums and galleries throughout Florida, including the Cornell Museum of Art and History, Delray Beach; The Visual Arts Center of Northwest Florida, Panama City; the Ritter Gallery, Boca Raton; the Arts Center, St. Petersburg; Barrier Island Group for the Arts, Sanibel Island; and the Global Gallery, Tampa.
 In addition her work has been shown at the Neville Public Museum, Green Bay, Wisconsin; the Orange County Center for Contemporary Art, Santa Ana, California; the Spirit Echoes Gallery, Austin, Texas; and University of Mobile, Mobile, Alabama.
Her work is represented in numerous collections, including: University of Texas Health Science Center NE, Tyler, Texas; Roger Dean, Palm Beach, FL; Equitable Life, West Palm Beach, FL; Northwood University, West Palm Beach, FL; Lake Wales Medical Center, Lake Wales, FL; and A.H. Fisher Diamonds, Red Bank, NJ.
Hours
M - F : 9am–5pm
Sat : by appointment only
Sun : Closed