About YogaPainter Artworks & Portfolio
What are Yoga Portraits and Yoga Expressions?
 Yoga Portraits are traditional hand-painted original portraits on artist canvas. Each one captures the mood of the pose and the unique internal light of the yogi.
Yoga Expressions are mixed media artworks. Generally conceived as digital paintings using an electronic tablet and stylus, the pieces progress to include collage, hand drawing and painting, mono printing and more! The digital portion of the artwork is printed with high-quality archival inks on artist canvas, protected with a sealant. Drawing, painting, collage and printing are all done with high quality artists materials. No two artworks are identical. This process allows the paintings to be personalized by including a Sanskrit word, loved one's name, symbol, or even a yoga studio logo.
The artwork on canvas hangs from supports at the top and bottom. "In an effort to free the artwork from the traditional constraints of frames and glass, I developed a hanging system much like ancient Asian scrolls."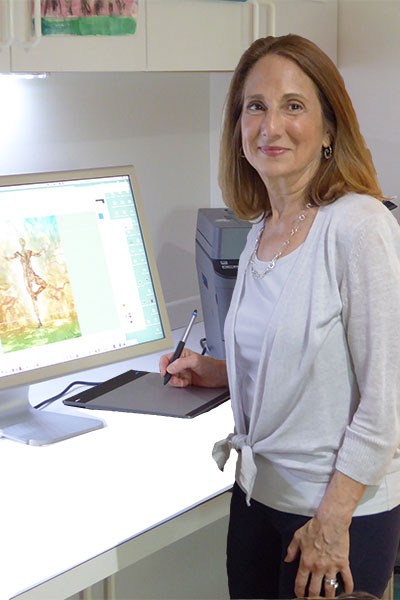 Gifts for Yourself or a Favorite Yogi
Choose a packet of more cards, a personalized yoga scroll or commission  a yoga portrait
Visit YogaPainter complete Portfolio
Hours
M - F : 9am–5pm
Sat : by appointment only
Sun : Closed